Our technology allows us to create positive customer experience and moves the fashion industry into a more efficient and creative future.
Ultra modern spreading and cutting machines are the key of our always precise cutting process.
Semi-automatic sewing and assembling solutions are one of the reasons we maintain an increased level of productivity.
Our own high capacity washing facility is equipped with modern Tonello washing machines and Triveneta dryers.
Our ironing department with modern Brisay pressing machines and integrated steam-driers, hot-air blowers guarantees the finishing quality for any type of fabric.
Redefining quality standards
Great products start with great fabrics! In years of experience we learned to work with the most sophisticated fabrics and made sure to invest in the technologies that facilitate high-quality production with the finest fabrics. The most noble virgin wool, Pima cotton, blends with cashmere and silk and materials with high elasticity have been therefore often used in our manufacturing facilities. You name the fabric, we will know how to handle it!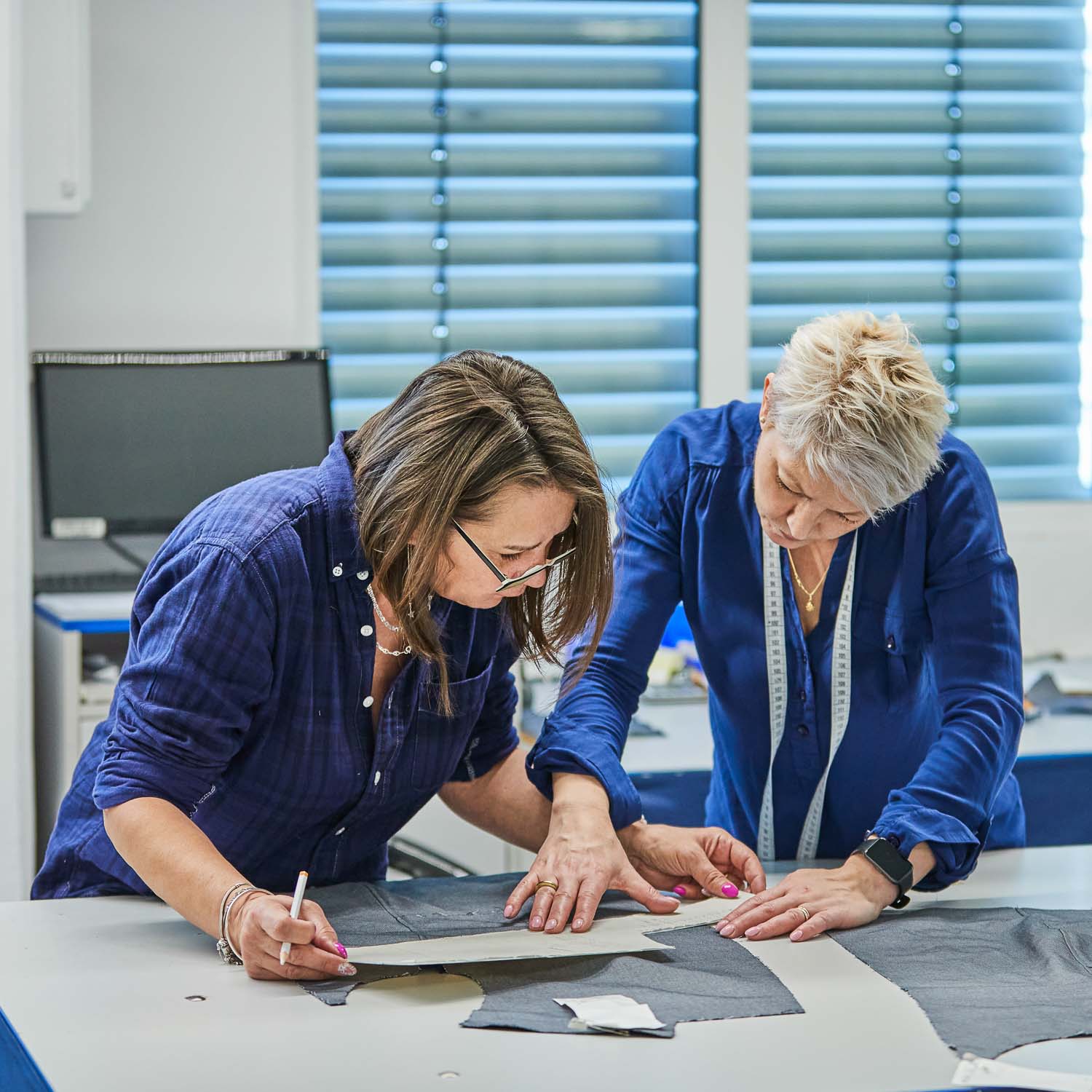 In response to requests from our clients we keep on extending our activities in order to offer the most complete service to our clients.
We have spacious warehouses with the perfect conditions to keep all the materials needed for production.
Constructing patterns from scratch or changing existing patterns according to needs, adding shrinking allowances, preparing markers for the cutting department is a daily routine for our skilled personnel.
Our high performance embroidery and decorative sewing machines makes our products valuable, stylish and precious.
We double check the fabrics quality, making shrinking and skewing tests in our own laboratory, detemining the physical stability of the fabrics.
Quality in every detail is our main standpoint. Our skilled quality inspectors are concentrating on quality through the whole production process.
Our storage flexibility and just-in-time delivery meet retailers' sales-driven delivery expectations, while ensuring safety and organization in our warehouses.
Packed in carton boxes, ensuring waterproof if necessary or just polybagged and shipped on hangers, – we adapt to our customers' needs.
Empowering Quality and Sustainability
As a European production company, we benefit from a unified legal environment and seamless market integration. With no customs barriers, nearshoring advantages and effective communication supported by our multilingual skills, we prioritize efficient lead times.
Our commitment to sustainable production processes, employment stability, logistical resilience and environmental considerations aligns with our dedication to upholding human rights and practicing fair trade. By maintaining high-quality conditions, we ensure the production of exceptional products.